several weeks ago, i thought it would be a good idea to make a rug. i wanted an oval one to put in front of the couch while i crocheted or in front of my bed. i just know that the drafts are coming and i don't much care for wearing shoes. perhaps a simpler sollution would have been to try out a sock or slipper pattern.
so, i started on the rug, which seemed pretty simple. i tell ya, that rug just about whooped my butt. i was literally sweating and struggling with it. so i finally had the mind to give up on it. after all that work, i don't think i'd be happy with it anyway. i have yet to get a yarn ball winder, (this would be on my wish list if i had one.) so after looking at all the yarn that i had just faught with in a pile, i didn't want to let it tangle so i started a new rug. dominic loves to roll around and lay down and watch his cartoons on the floor so, i thought, well, this could be a t.v matt for him.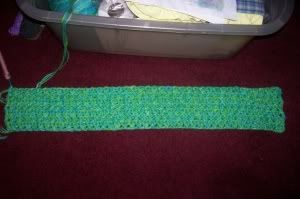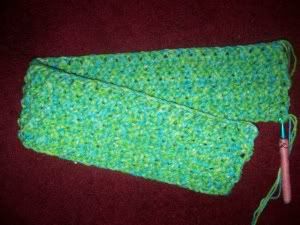 i'm doing long rows of the cris-cross stitch. so far i've done 7 rows which makes it 5'' from top to bottom.i'd like to consider it done at about 25''.