turn down the lights, put on some smooth music and hand my my no.7 steel crochet hook-i'm about to get busy.
i think i'm addicted to late night crochet. i always feel the need to complete one small thing before i go to sleep. last night, or morning i should say, i didn't get to bed until 6am. it's now a little past 4am and i'm still scouring the web for the perfect little pattern for me to try. last night it was a pineapple sachet. i've been in a sachetin mood lately and i'm still on the hunt for the perfect pattern. i came across this pattern a little while ago but it didn't work out for me then. i had to look a little closer at it to finally figure out where i was going wrong. let me warn you before you go ahead and try it out, in rnd 3, the parenthesis should be before "skip next st," in the pattern. i kept on coming up with 16 dc because of this. also, when it says "beg shell" in the pattern i i would have caught on a bit faster if it said "work beg shell" instead. i was like, beg shell, nice, what about the beg shell?
after i got over those bumps i realized that i was doing more shellin than pineapple'n. this is what i got: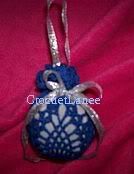 i likethe way it looks but for a sachet, i thought it was a bit big. an alternate use for the pattern is making it into a christmas ball cover. it is literally the size of a christmas ball. it took a bit of fiberfill to get it as round as it is. the sachet in it is very faint because of this. and at 5 in the morning, i couldn't find my blue tulle so i used some left over chiffon that i had. i don't know if i was just too tired or what but i cut the chiffon a little to small.
i have to say that my favorite part about this sachet is the ribbon, i used some metallic ribbon that i got at walmart for about 98cents. i don't like the fact that it unravels but i think a couple of small dabs of superglue would fix that right up. i think that it would look a bit nicer if i could curl the bow tails. i was thinking of startching the ribbon and then wrapping it around a pencil or something until it dried. i may have to try that on another project.
for now, my cruisade to find the perfect pattern continues. i may just wind up making my own. (that would be somethin else!)
i found the pattern here:
PINEAPPLE SACHET