i just can't seem to get motivated to work on the mother's day afghan. i'm totally bored with french knots and straight stitches. i've told myself that i wouldn't start another afghan until i got this one finished but i really want to try a round ripple afghan that was posted in one of my groups. i won a booklet of mile-a-minute afghans that i also want to try. i've never done a mile a minute. about a year ago, i started on an afghan for a friend that i'm unable to finish. i've still got it in my head that i want to give her one. i think the mile a minute will be perfect. ah well.
i'm taking a break right now from the straight stitches. i'm looking for some heart patterns and i've found a few that i want to try. i'm trying to figure out what i can give as party favors for those who come to the most informal wedding ever. halfway home-made everything.
i'm in the process of making a snood. all i need for it is a barrette- then i can put it together and test it out. times' winding down. my soon to be hubby will be back on a couple of weeks and i'd like to have things set up at least a little. i ordered a pattern online for a capelet that i want to make to wear with my dress. i've still got to get the fabric and all that. i already have it in mind and i know how much it costs. of course i'll be getting it from good ole walmart.
here are some pictures of the darn blasted squares i'm working on. i'm only halfway finished. when i'm able to edit my blog using beta, i'll be adding some WIP meters. (hopefully soon!) i may just have to redo the whole blog. i've had to manually insert pictures which is a total pain.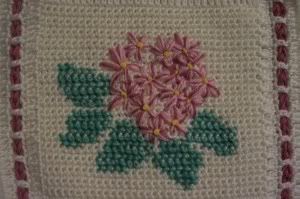 i had to make about 20 of these squares. half of which will be embroidered like the one on the right. that's some tedious stuff right there!
Mother's Day Afghan