i finally got the barrette to finish up my snood. it came out alright. i was on a roll with the middle rows and did about 4 more than the pattern called for so it's a bit long for me. i've already started on another one. i've just got to make the petals and rose for it. the rose that's given on the pattern is nice but i think i'll try another flower this time around.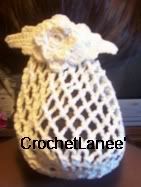 i couldn't find any size 10 thread in teh color that i wanted so i just did the barrette part using the same size 3 that i used for the body of the snood. i don't think it turned out terrible but i'll be using size 10 white with some gold embroidery thread strung along. i also finished a bride's purse last night. i've made 2 so far. one with the silver metallic thread as the pattern calls for and one with gold. i gave up on puttin the beads on the silver because i know i'm not going to use it. i will probably finish it and then gift it to some one.
according to my gauge, this round ripple afghan will be about 34'' across. i usually like to give blankets a bit bigger but this one will be just fine. i don't know any one who is expecting so maybe i'll give it to a charity. i want to try some little outfits, too. (hoping that it'll prepare me for the making of sweaters or vests.
Round Ripple Afghan
Where i found the patterns:
Bride's Purse
(pdf)
Rose Snood
(pdf)