i've been wanting to make a pair of slippers and so i did last night. i like the way they came out and they're much easier than i though they would be. so i think that i can make my own pattern up for my next pair. i'd like to have some that come all the way up the ankle.
at first, i didn't like the color of these. the pattern says to work with 2 strands held together and these are the only colors that i had on hand. i love the colors now because they look nice on my feet. i would like them to be a bit more snug- i'll be working on making them snug and the right size next time. we all know that a size too small can be snug but is rarely comfortable.
anyway, here they are: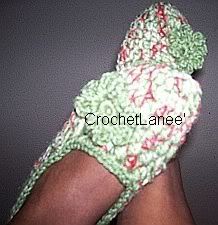 and here's where i found the pattern:
Abi's Slippers
the slippers shown in the picture look a bit different from mine. i think the ones on hte pattern look like the main stitch is a clister stitch and reminds me of a granny square.